Zimbra Drive vs Nextcloud Zimlet
Now that Zimbra Drive is released as an installation option in Zimbra Open-Source edition, I often talk to people that are not aware that Zimbra Drive is developed separately from Nextcloud Zimlet (Zimbra WebDAV Client).

While both products allow you to integrate Nextcloud/ownCloud in your Zimbra, there are some differences. That I'll show you in this post.
| | | | |
| --- | --- | --- | --- |
| | WebDAV Client | Zimbra Drive | |
| WebDAV protocol | yes | no | |
| OnlyOffice | yes | no | |
| Collabora | no | yes | |
| Markdown | yes* | no | *Support rendering Markdown. Directly edit from Zimbra, the text source file. |
| Document Preview | yes | yes | |
| Require Nextcloud APP | no | yes | |
| Support SSO to Nextcloud | no* | yes | *WebDAV Client supports storing the password on Zimbra LDAP (in plain text) |
| Support Windows File Shares via external storage | yes | no* | *You can store the credentials of a share in Nextcloud, but that means all users would use a single set of credentials |
| Supported by Zimbra | no | yes | |
| Rebranding | yes | no | |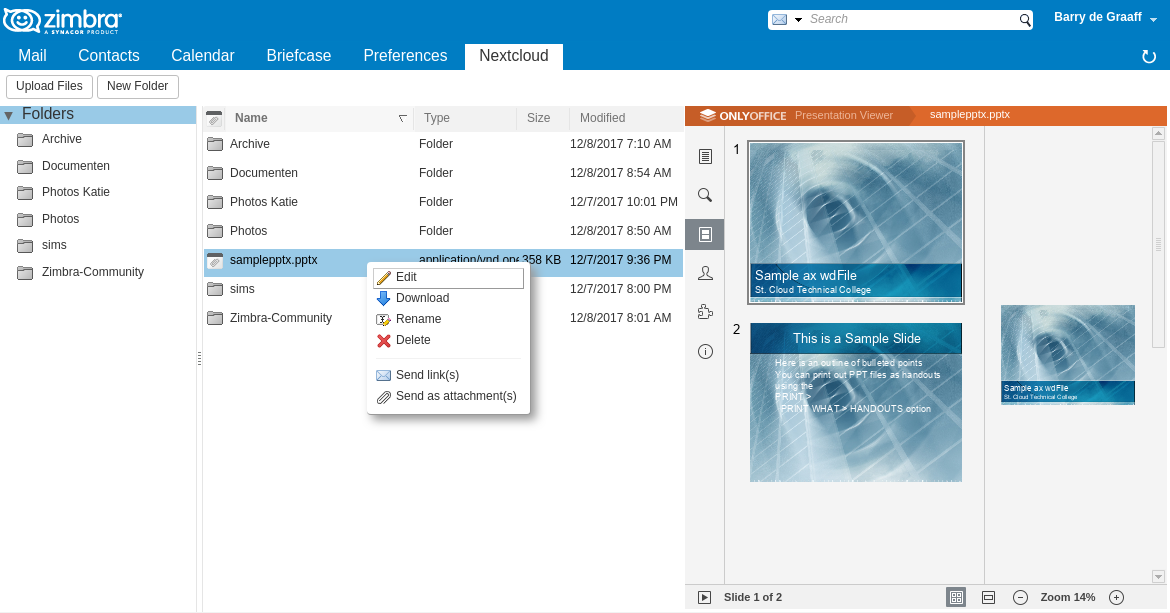 Zimbra WebDAV Client now fully supports previewing in OnlyOffice (Screenshot).

In my experience, Collabora (LibreOffice) creates documents that are 100% compatible with LibreOffice, while OnlyOffice creates documents that are 100% compatible with Microsoft Office. In addition when one exports to a PDF the documents from Collabora are more compatible with jsPDF (so you can embed it in WordPress).

If it comes to the configuration, Zimbra Drive is pre-configured by the administrator that can set the Nextcloud servers to use per cos/domain etc. Zimbra WebDAV Client allows the admin to set default settings (can be based on Zimbra's public URL) and set a list of allowed domains. The user is able to configure the settings of Zimbra WebDAV Client to use whatever Nextcloud desired (if the admin allows the domain).

Did I overlook a feature? Comment below and I add it to the table.



Tags: Nextcloud, OnlyOffice, Zimbra
Barry de Graaff