Now that Zimbra Drive is released as an installation option in Zimbra Open-Source edition, I often talk to people that are not aware that Zimbra Drive is developed separately from Nextcloud Zimlet (Zimbra WebDAV Client).
While both products allow you to integrate Nextcloud/ownCloud in your Zimbra, there are some differences. That I'll show you in this post.
WebDAV Client
Zimbra Drive
WebDAV protocol
yes
no
OnlyOffice
yes
no
Collabora
no
yes
Markdown
yes*
no
*Support rendering Markdown. Directly edit from Zimbra, the text source file.
Document Preview
yes
yes
Require Nextcloud APP
no
yes
Support SSO to Nextcloud
no*
yes
*WebDAV Client supports storing the password on Zimbra LDAP (in plain text)
Support Windows File Shares
via external storage
yes
no*
*You can store the credentials of a share in Nextcloud, but that means all users would use a single set of credentials
Supported by Zimbra
no
yes
Rebranding
yes
no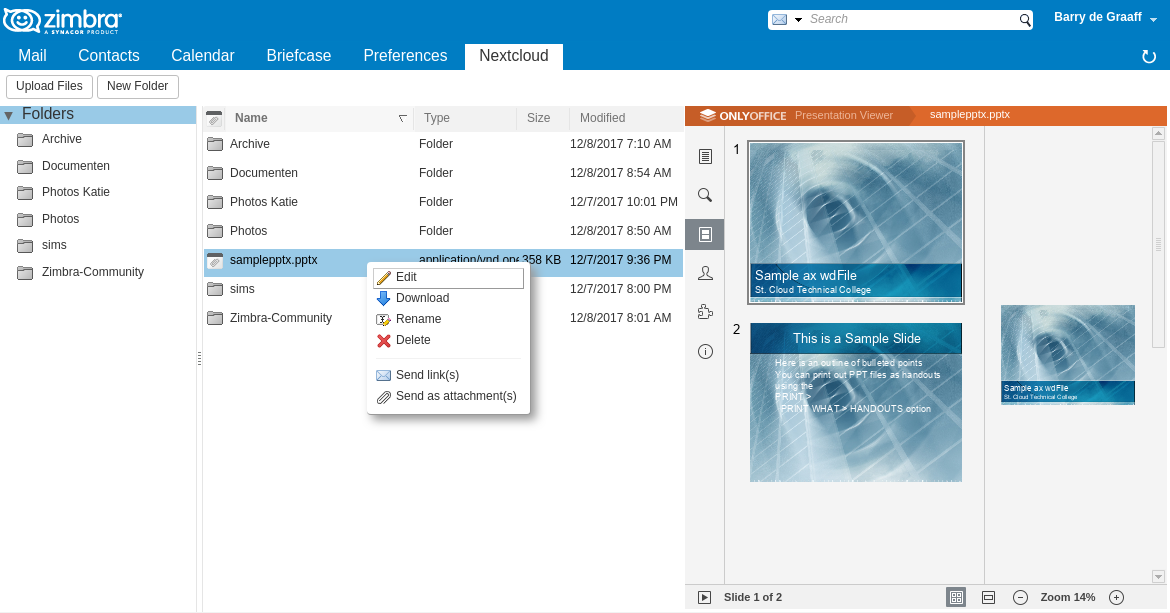 Zimbra WebDAV Client now fully supports previewing in OnlyOffice (Screenshot).
In my experience, Collabora (LibreOffice) creates documents that are 100% compatible with LibreOffice, while OnlyOffice creates documents that are 100% compatible with Microsoft Office. In addition when one exports to a PDF the documents from Collabora are more compatible with jsPDF (so you can embed it in WordPress).
If it comes to the configuration, Zimbra Drive is pre-configured by the administrator that can set the Nextcloud servers to use per cos/domain etc. Zimbra WebDAV Client allows the admin to set default settings (can be based on Zimbra's public URL) and set a list of allowed domains. The user is able to configure the settings of Zimbra WebDAV Client to use whatever Nextcloud desired (if the admin allows the domain).
Did I overlook a feature? Comment below and I add it to the table.